Jamie Leeds
Chef and Restaurateur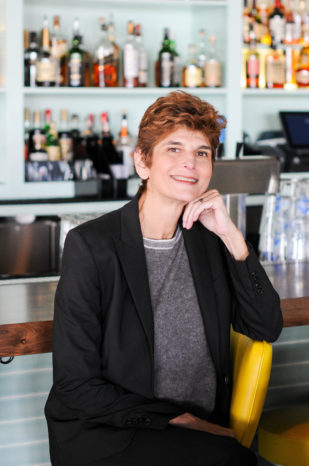 Jamie Leeds
Chef and Restaurateur
Chef Jamie Leeds is a pioneering and tenacious female entrepreneur who has spent her career fostering community, mentoring other female business owners and culinary professionals, and supporting sustainable practices across her restaurants and the seafood industry at-large.
One of the East Coast's most respected chefs and restaurateurs, Leeds has 35 years of experience, from kitchens in Europe to the D.C.-Maryland-Virginia-area. A self-taught chef, Leeds began her career in New York in the early 1980s at Danny Meyer's famed Union Square Cafe, working her way up from potato peeler to sous chef. With Meyer's encouragement, Leeds moved to France in 1991, where she spent a year honing her skills before returning stateside to work for Rich Melman of Lettuce Entertain You Enterprises in Chicago.
From the moment she appeared on the D.C. culinary scene, Leeds has garnered positive reviews and accolades, earning nominations in 2003 as a "Rising Culinary Star" in the Restaurant Association of Metropolitan Washington's Capital Restaurant & Hospitality Awards and a "Rising Star Chef" by Starchefs' local awards program.
In May 2005, Leeds opened her first restaurant, Hank's Oyster Bar, in D.C.'s Dupont Circle, serving what she coined "urban beach food." Named for her father, whom she credits as her inspiration for becoming a chef, the restaurant debuted to wide acclaim. Now celebrated for its range of proprietary oysters and other locally sourced seafood, Hank's Oyster Bar continues to draw recognition as a D.C. institution and industry stalwart, recently winning "Best Raw Bar" in Washingtonian's Best of Washington Readers' Poll 2019, "Best Bloody Mary" and "Best Chef-Jamie Leeds" (a second consecutive win) from Washington Blade's Best of Gay D.C. in 2019, among numerous other accolades over the years.
Leeds' expansion of her flagship brand began in 2007 with the opening of the second Hank's Oyster Bar location on King Street in Old Town Alexandria, Va., which went on to win the coveted, publicly voted RAMMY for "Best Neighborhood Restaurant" in both 2008 and 2014, and earned the title of "Best Oysters" in Virginia Living's 2019 Best of Northern Virginia awards. A third location followed on Capitol Hill near Eastern Market in 2012 and Hank's Oyster Bar on The Wharf, the fourth and largest location, opened in October 2017, quickly becoming an area favorite.
In 2015, Leeds formed Jamie Leeds Restaurant Group to house her expanding restaurant portfolio. With Jamie Leeds Restaurant Group, Leeds strives to bring the surrounding neighborhood into every dining experience, with each restaurant featuring a core menu that's also layered with location-specific specials and beverage offerings. With the success of her vibrant and growing hospitality company, which also includes Hank's Cocktail Bar (winner of "Best Craft Cocktails" in Washington Blade's Best of Gay D.C. 2019), she was selected as one of 15 Washington Business Journal "Business of Pride" honorees in recognition of her outstanding practices in advancing LGBTQ leadership and equality.
Jamie Leeds Restaurant Group is committed to creating an inclusive environment that embraces employees as family, welcomes all guests like neighbors, serves food that tastes like what it is, and turns meals into memories. To further this mission, this spring, along with the opening of Hank & Mitzi's, Leeds will launch Events by Jamie Leeds, a full-service events and catering arm of her business that will offer custom, curated events of all kinds.
Outside the kitchen, Leeds has been an active leader within the regional and national culinary communities. As the former President of Women Chefs and Restaurateurs (WCR), Leeds shared her knowledge and experience with young women who the organization works to support and empower by providing resources, scholarships and mentorship opportunities. She's served as a featured guest speaker at numerous industry panels and events, including the James Beard Foundation's Women's Entrepreneurial Leadership Program and its Chefs for Action Summit 2019. She's also appeared as a guest chef on Windstar's epicurean-themed James Beard Collection cruise and cooked at the James Beard House.  Locally, Leeds is an active fundraiser and supporter of the Chesapeake Bay Foundation's "Save the Bay" efforts, serving as the 2020 host sponsor of the organization's popular annual "D.C. On the Half Shell" event.
JL Restaurant Group continues to receive consistent praise from esteemed media outlets such as Gourmet, Bon Appetit, Food & Wine, Southern Living, The Washington Post, Washingtonian, D.C. magazine, The Washington Times, Fox Morning News and more.
A resident of North Chevy Chase, Md., when she's not busy at the helm of her burgeoning restaurant empire, Leeds enjoys spending time with her wife, Tina, and two children, Hayden and Hazel.